Complete heating & cooling services for homes & small business
Prompt Heating & Air Conditioning is a local HVAC company providing on-time service and emergency repairs for your furnace, boiler, water heater or AC unit – anywhere in Wauwatosa, WI.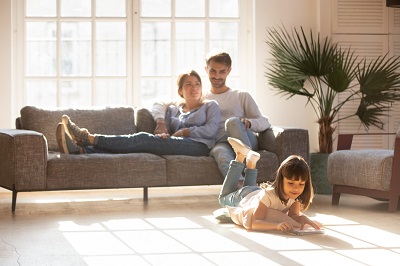 Keep your Wauwatosa home comfortable year-round with reliable heating & cooling services.
Our technicians have earned loyalty (and great reviews) from clients throughout the greater Milwaukee area because we:
Offer 30-minute service windows
Work with all major brands
Help you troubleshoot the problem over the phone if we can
Are pet-friendly and work clean
Have fair, competitive pricing
You'll get a firm price quote before any work begins – no surprises! Active military and first responders get discounted rates.
Call now for emergency repair or contact us for an appointment.
We fix, service & replace furnaces in Wauwatosa
Whether you're looking for preventative maintenance, repairs or need a recommendation on a new heating system installation for your home, we've got you covered.
Prompt repairs & maintains all major furnace brands whether we installed the unit or not. We'll always help you get the longest possible service life out of your heating system.
Learn more about our furnace services or boiler services.
Keep your cool with reliable AC repair & service throughout Wauwatosa
You don't have to wait around all morning or afternoon for your air conditioner service. We give 30-minute appointment windows and stick to them. Find out more about our AC installation and recharge services.
Our HVAC contractors repair and maintain any type of home cooling system, no matter who installed it. When your AC stops running or stops blowing cold air don't assume the worst – we'll take a look and keep it running for as long as it's economically feasible.
Learn more about our air conditioner services.
Wauwatosa water heater & indoor air quality solutions
We work on all types of water heaters including gas, electrical, tankless and hybrid models. Regular maintenance and repairs will keep your hot water heater running efficiently to help you avoid inconvenient breakdowns.
Make dry winter weather more bearable with an Aprilaire whole-home humidifier system – we offer free quotes for new water heater installations. Balancing humidity levels can also help your AC and furnace operate more efficiently – ask us how!
Learn more about our water heater services.
Fast response for HVAC service requests in Wauwatosa
Prompt Heating & Air Conditioning is headquartered in Milwaukee near the Menomonee River Parkway and Timmerman Airport, just a few short minutes from Wauwatosa. Call now for emergency repairs or get in touch to book preventive maintenance, cleaning or a tune-up of your heating and cooling equipment.
Contact Prompt online or give us a call for residential & light commercial HVAC service in Wauwatosa. We serve clients in zip codes 53007, 53225, 53210, 53226, 53213, 53263 & 53222