HVAC services >> Boilers >> Repair
Serving Milwaukee County & Beyond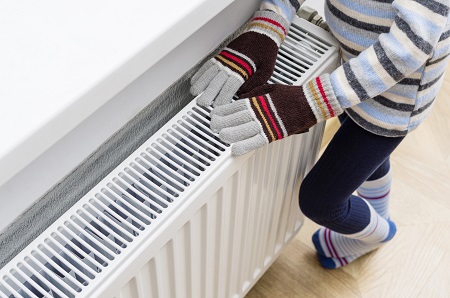 Call Prompt for troubleshooting & repair for your boiler, heating registers & thermostat.
Whether you have a common or unusual issue with your boiler, the best thing you can do is call Prompt Heating & Air Conditioning and talk to one of our technicians. We have the experience to diagnose and fix your boiler problem the first time – sometimes we can even help you troubleshoot it over the phone.
On repair service calls we provide diagnostics and a firm estimate for full repair. Every boiler repair job is backed by our two-year workmanship warranty.
Scheduling boiler repair is easy with our 30-minute appointment windows. With Prompt you'll get consistency of technician, a plain-language explanation of the work, and fair pricing. We offer replacements and maintenance on all major boiler brands.
On this page:
Reliable hydronic heating system repair
We work on all different types of boiler heating systems including hot water boilers (the most common type), steam boilers (less common), and combination (combi) boilers that provide both heat and hot water.
Boiler repair review
Dec 2015

Numerous companies had been called in the past and their general consensus was that the entire system needed to be replaced. Being skeptical and knowing that such a replacement would be cost prohibitive, I was able to find found someone who specialized in boilers and works at Prompt Heating... He checked out the boiler, the thermostat and the registers and in one visit was able to diagnosis the problem.
Continue reading
Boilers are also called hydronic systems because they use water instead of air to distribute heat in your home. Some hydronic systems circulate the hot water through pipes and radiators, others use radiant floor heating (circulating the hot water through tubing in your floors).
We have years of experience fixing boilers in and around Milwaukee and can help you with problems like:
Your boiler keeps turning off
You hear banging, whistling or gurgling sounds
Radiators are hot at the bottom but cold on top
Pilot light is out
Boiler is dripping, leaking, or losing pressure
What to look for in a boiler repair company
You want a licensed, experienced boiler repairman. A van with a decal doesn't cut it – when it comes to your home's heating system, make sure the contractor you choose has earned their certification in the State of Wisconsin.
Check out their reviews & referrals. Any company gets a bad review now and then. What you want to see is a pattern of consistently good recommendations from people in your area. (Find our Google reviews here.)
Make sure you know what you're paying for. A quality boiler company will give you a firm price quote and explain the work in terms you can understand.
Choosing a good boiler repair technician can make all the difference in the service life of your heating system. If you have doubts after getting a boiler repair quote, get a second opinion.
We repair all major brands, including:
How to Spot a Boiler in Need of Repair
It's never a good idea to let your boiler go unrepaired, as the consequences could be dangerous and expensive. Luckily, there are a few common boiler problems most homeowners can easily spot.
Home boiler repair
The majority of our boiler services focus on residential boiler repair and maintenance. No matter what type of home boiler problem you're having, contact Prompt for:
Steam boiler repair
Gas boiler repair
Electric boiler repair
If we can help you troubleshoot the problem over the phone, we will. If a boiler technician needs to come out and take a look at your boiler, we'll give you a firm quote for any necessary repair work and parts so you'll know exactly what to expect.
Light commercial boiler repair
Our light commercial boiler repair services are ideal for small businesses like an office, restaurant or retail shop. We repair boilers for local businesses throughout the greater Milwaukee area in Milwaukee, Waukesha and Washington Counties.
We'll get your commercial boiler up and running again with minimal disruption to your day to day operations.
Boiler Repair FAQ
How much does it cost to fix a boiler?
A boiler needs inspecting to diagnose the problem. Price is a chief concern when you need boiler repair, and you'll never get surprise costs with Prompt. We'll give you a fair, firm price before getting to work.
Should I repair or replace my boiler?
The first consideration is the boiler's age. On average, a residential boiler lasts 15-20 years. This varies depending on how often the boiler was professionally serviced and maintained. If you suspect your boiler needs replacing, the most important thing is safety. Get it inspected by a professional to make sure the boiler meets modern safety standards. If your heating bills and boiler repair costs increase year after year, it's a sign you might be better off replacing your boiler with a more efficient unit. Give us a call and we'll come take a look!
Why is my boiler leaking water?
The first thing that comes to mind is flawed installation. Corroded pipes, valves or tank can let water escape, too. If mineral buildup leads to excessive pressure, water may leak from the valves. Seals around the boiler pump could also be worn and need replacement. In some cases, the pump itself is damaged. As time passes, boilers can also develop stress fractures, which can cause leaks to develop.
Boiler Repair Service for the Greater Milwaukee Area
Make Prompt your first call for boiler repair and enjoy consistency, fair pricing and warrantied workmanship on all services. We offer special pricing for members of the military, fire and police, and our service plan members enjoy the same discounts plus seasonal tune-ups.
We'll help you safely extend the service life of your boiler, and we'll recommend the most cost-effective replacement model when the time comes.
We offer emergency boiler repair 24/7, and 30-minute appointment windows for all other boiler services.