Warrantied repair service for Ruud furnaces, air conditioners & water heaters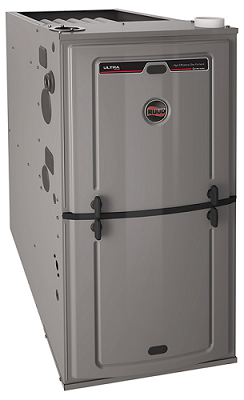 Prompt Heating & Air Conditioning is a Milwaukee-based HVAC company providing maintenance, repair & replacement for Ruud HVAC equipment throughout the greater Milwaukee region.
We repair Ruud heating and cooling systems in homes and light commercial (small business) applications. We offer 30-minute appointment windows, and every job is backed by our 2-year workmanship warranty.
Contact us online to schedule Ruud HVAC service or call anytime for 24/7 emergency furnace and AC repair.
Ruud furnace repair
Ruud has a wide range of residential gas furnace units with ratings from 80% to 96% AFUE (Annual Fuel Utilization Efficiency) featuring single stage or two-stage operation.
We offer troubleshooting and repair for all Ruud residential gas furnace models including:
Ultra series (U802V)
EcoNet™ enabled Ultra® series (U98V, U97V, U96V, U802V)
Achiever series (R801C, R95T, R801T, R95P, R92P, R801P, R801S)
Achiever Plus series (R801T, R802T, R96T, R96P, R92T, R802P)
Don't see your model listed? Don't worry! Give us a call and we'll help you troubleshoot your Ruud furnace problem over the phone if we can. If we need to make a service call to diagnose the issue, you'll get a firm quote for furnace repairs before any work takes place – no surprise costs.
Ruud furnace maintenance
Regular professional maintenance helps you get the longest possible service life out of your Ruud heating system. Our 30-minute appointment windows make it easy to keep up with seasonal furnace tune-ups without having to sacrifice half a day waiting around.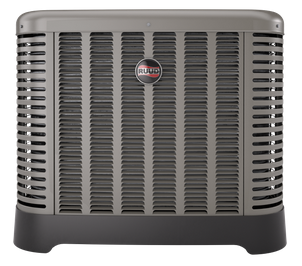 Ruud air conditioner repair
Ruud has several different residential air conditioner models ranging from 13 to 20.5 SEER (Seasonal Energy Efficiency Ratio). Ruud AC units include a composite base pan to minimize noise during operation.
We repair and maintain all types of Ruud AC products including RA13, RA14, RA14**W, RA16 & UA17 as well as older models.
Whether you need AC repairs, replacement parts or a professional recommendation on whether it makes more sense to fix or replace your Ruud air conditioner, we can help.
Ruud air conditioner maintenance
Annual inspection and preventive maintenance from an HVAC technician help keep your Ruud AC running smoothly all summer. A spring AC tune-up not only reduces the risk of breakdown, it improves efficiency and helps your unit last longer. Call us before the first heat wave to make sure your Ruud AC is ready!
Ruud water heater repair
Ruud's founder, Edwin Ruud, actually invented the first automatic storage tank style water heater in the 1880s. Now Ruud manufactures and sells gas, electric, hybrid electric, storage tank and tankless water heaters.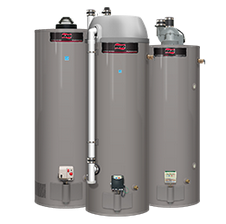 As a pioneer in the residential water heating industry, Ruud water heaters have a reputation for excellence and every model meets or exceeds the highest industry standards.
Prompt Heating & Air Conditioning offers warrantied repair, cleaning, inspection, and maintenance service for all models of Ruud hot water heaters including:
Professional Ultra Series
Professional Achiever Series
Professional Achiever Plus Series
Pacemaker
Tankless Mid-Efficiency Series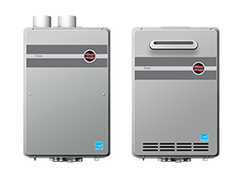 Features available on Ruud water heaters include fan-assisted design, low NOx design, flammable vapor detection system, self-diagnostic system, integrated system controls and much more. Keep your top-of-the-line Ruud water heater running at maximum efficiency with regular inspection and maintenance from a qualified contractor. Learn more about our water heater services.
Service for all Ruud HVAC systems
We also provide service for Ruud air handlers, indoor air quality products, thermostats and control systems.
Why Prompt? In addition to our conveniently short appointment windows, we take the time to explain any needed repairs in plain English so you understand exactly what you're paying for. Our firm price quotes mean no unexpected expenses, and our reviews testify to our high standards for customer service.
We also offer an HVAC service plan with built-in seasonal tune-ups and discounts on products and services.
Who makes Ruud HVAC products?
Ruud is a subsidiary of Rheem, which manufactures HVAC equipment in the USA. We service both Ruud and Rheem brand units.
The best Ruud HVAC services in & around Milwaukee
Contact us today and see for yourself!
Prompt Heating & Air Conditioning is a full-service HVAC company offering fast & friendly service for all Ruud heating and cooling systems.
Based in Milwaukee serving the greater metro area including West Allis, Wauwatosa, Brookfield, Elm Grove, Greenfield, Franklin, Hales Corners, St. Francis, Cudahy, Bay View, Oak Creek, Menomonee Falls, Shorewood, Glendale, Whitefish Bay, Delafield, Pewaukee, Butler, Sussex, Lannon, Brown Deer, Richfield, Hubertus, Slinger, Hartford, New Berlin, Waukesha, West Bend, Mequon, Grafton, Germantown & the surrounding communities.