Local Milwaukee HVAC contractor servicing Bryant equipment
Deana Assante
April 2019

They do GREAT work, fair pricing, friendly and very professional. Would HIGHLY recommend calling them if you need heating or cooling. They can give you a quote and get the job done. Do tune ups and new. Give them a call you won't be sorry.
All Reviews
Prompt Heating & Air Conditioning provides repair, maintenance and installation service for Bryant heating and cooling equipment.
We offer residential and light commercial HVAC service and back all our services with a 2-year workmanship warranty. 24 hour emergency HVAC repair available.
Headquartered in Milwaukee near Wauwatosa, we serve home and business owners throughout the Milwaukee metro area including Waukesha, Franklin, Germantown and everywhere in between.
We give 30-minute appointment windows and firm price quotes before work begins. Contact us online or call now for service:
Bryant heating & cooling systems
Bryant HVAC equipment is manufactured by United Technologies Corp, the same parent company that makes Carrier, Payne and Day & Night HVAC products.
Bryant heating and cooling systems have a reputation for durability and reliability, and are continually being adapted to better serve homeowners. Bryant also offers a range of controls and thermostats compatible with smart devices.
Bryant gas furnaces
Bryant offers three lines of gas furnaces:
Evolution™ variable-speed gas furnaces
Best-in-class performance and AFUE efficiency up to 98.3%. Gas furnaces in Bryan's Evolution™ series run very quietly and provide consistent comfort. Ultra-precise gas modulation constantly adjusts operation as conditions change for maximum efficiency.
Preferred™ variable-speed gas furnaces
Furnaces in the Preferred™ line have a two-stage gas valve for even control of airflow and consistent heating cycles. A great combination of efficiency and comfort.
Legacy™ fixed-speed gas furnaces
The Bryant Legacy™ Line furnaces are solidly built, dependable single-stage gas furnaces. With six models to choose from in the Legacy Line there's a Bryant furnace for every home and budget.
Whether you need furnace repair, a seasonal tune-up or are wondering whether it's time to replace your Bryant furnace, Prompt Heating & Air Conditioning has you covered.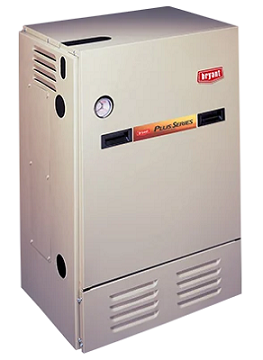 Bryant furnace maintenance
We offer professional inspection and cleaning for all models of Bryant home furnace. If we come across any issues and need to recommend preventive maintenance service, you'll get a full explanation and firm quote before we do anything.
Contact us to book a seasonal tune-up for your Bryant furnace, and get discounted pricing if you join our maintenance plan.
Bryant boilers
Bryant offers high-efficiency gas-fired boilers for whole-home comfort. Choose from several models of boiler from Bryant's Preferred™ or Legacy™ line and stay cozy all winter with quiet, radiant heat.
We offer boiler repair and preventive boiler maintenance services for Bryant and many other brands.
Bryant air conditioners
Bryant air conditioners are available with single-stage, two-stage and variable-speed compressors, with SEER (seasonal energy efficiency ratings) up to 20.5. Like their range of gas furnaces, Bryant offers three tiers of air conditioner with their Evolution™, Preferred™ and Legacy™ lines.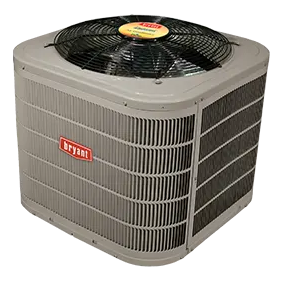 Evolution™ series air conditioners
Models in the Evolution series are available with 1-stage, 2-stage or variable-speed compressors and have the highest SEER rating of the three lines. All models in this series are compatible with the Evolution Connex wi-fi enabled control for remote access and programmable settings.
Preferred™ series air conditioners
Models in the Preferred series are available with a 1-stage or 2-stage compressor and boast SEER ratings of up to 17. Enjoy summer humidity control, quiet operation and reliable performance in hot weather.
Legacy™ Line air conditioners
Economically priced models in the Legacy line have a SEER rating up to 16 and provide reliable home cooling. Legacy models have a single-stage compressor quiet performance.
Bryant air conditioner maintenance
No matter which Bryant AC unit you have, extend its service life with seasonal AC maintenance for optimal performance all summer long.
Bryant thermostats
Bryant controls and thermostats are designed to provide outstanding value and convenience to homeowners with options like:
Wi-fi remote access
MyEvolution mobile app
Custom comfort schedules
Energy usage review
Humidity control
Occupancy sensing
Weather forecasts
Reminders
More!
Prompt Heating & Air Conditioning doesn't just work on furnaces and air conditioners, we can troubleshoot, repair, program or replace your thermostat as well. Contact us today!
Bryant residential & light commercial HVAC service
Prompt Heating & Air Conditioning has fair pricing and outstanding customer service for all Bryant HVAC repair, service and new installation throughout the greater Milwaukee metro region.
If we can help you troubleshoot the issue over the phone, we will. If a tech needs to come out to diagnose the problem we'll give you a full quote and explanation of repairs needed before starting work – no surprises!
Contact us online to schedule Bryant service or call now for emergency repair.
Located in Milwaukee serving the greater metro area including West Allis, Wauwatosa, Brookfield, Elm Grove, Greenfield, Franklin, Hales Corners, St. Francis, Cudahy, Bay View, Oak Creek, Menomonee Falls, Shorewood, Glendale, Whitefish Bay, Delafield, Pewaukee, Butler, Sussex, Lannon, Brown Deer, Richfield, Hubertus, Slinger, Hartford, New Berlin, Waukesha, West Bend, Mequon, Grafton, Germantown & the surrounding communities.