Central air repair & new unit installation in Hartland, WI
HVAC repair & replacement
Prompt offers central air services to residents in the Hartland area. From installation to repairs, our trusted HVAC contractors will get the job done right and on time. When the temperature is at a high of 85 degrees in the summer or low at 5 degrees in the winter, ensuring your HVAC system is properly working is important.
We know that having emergency maintenance done to your HAVC unit can be unexpected. You will know the price of your service before we leave with our firm quotes. Trust our technicians with your next HVAC service to keep it running as long as possible.
Common air conditioner issues
Central air systems issues can stem from many different parts. Here are common issues Prompt can fix for you:
Dirty or clogged filters
Refrigerant leaks
Thermostat problems
Electrical issues
Frozen evaporator coils
Drainage problems
Age-related issues
Regular maintenance and routine inspections by a professional can help prevent these issues and extend the life of your central air system
Central air new unit installation in Hartland
New central air unit installation is available in Hartland through Prompt Heating and Air Conditioning. If you are interested in a new air conditioning unit contact the professional installers at Prompt heating and cooling for the best price and fastest installation.
A new central air unit can increase the energy efficiency of your home and improve the air quality inside as well. As professional HVAC contractors, we understand how to determine the exact size unit that is right for your home so you can stay cool and not waste energy. There are a variety of brands on the market and we can recommend a reputable brand with a strong track record of performance and reliability. Our professional installers will assess your home's ductwork and make any necessary modifications to ensure proper airflow then they will install the new unit and connect it to your home's duct system. It will be tested to confirm it is functioning properly. Contact us today to get started.
24/7 Emergency Services
Professional services on your central air system are available 24/7/365 from our experienced, licensed & insured technicians. Prompt Heating & Air Conditioning technicians are available at any hour, any day of the year to fix your broken furnace, boiler, water heater, or air conditioner in the Hartland area.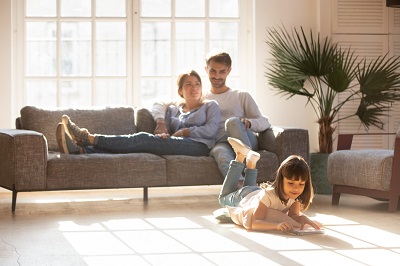 Keep your Hartland home comfortable year-round with reliable heating & cooling services.
You'll get a firm price quote before any work begins – no surprises! Active military and first responders get discounted rates.
Call now for emergency repair or contact us for an appointment.
Contact Prompt online or give us a call for residential & light commercial HVAC service in West Bend. We serve clients in zip codes 53090 & 53095.